Taal Volcano eruption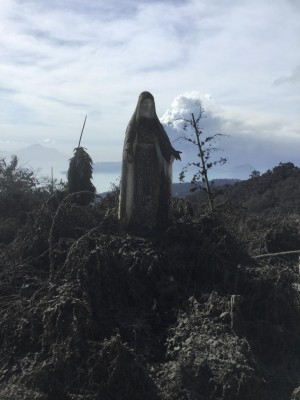 Good Shepherd Sisters and lay mission partners help victims of Taal Volcano eruption by distributing goods in evacuation centers in Batangas and Cavite.
A group formed by Sisters and Mission Partners led the campaign to gather food, medicine, face mask, bottled water, toiletries, towels, beddings, slippers, underwear for the evacuees. These items were distributed to families in evacuation centers. They have distributed goods to evacuees in 20 areas in the province of Batangas.
Bridgetines have been tapped to help in soliciting donations in kind or in cash to provide the needs of those affected by the January 12 eruption of Taal Volcano.
At Bahay Pastulan store in Sta. Rosa, sisters also welcomed evacuees, mostly families of the staff who were forced to evacuate from their homes in Tagaytay. Sr. Jeva Sumbillo of Maryridge said meals were also prepared for the evacuees. Earlier Sr. Joseph Olaguer gave grocery items to the families.
Sr. Lea Comia and novices Srs. Nina Nino and Cora Arcega, helped distribute goods at the Manghinao Elementary School, Sambat Elementary School and Municipality of San Pascual, to 184 families in evacuation center, the Batangas City South Elementary School.
The children and residents of the center are fine and stayed indoors most of the time because of the thick ashfall. Classes were suspended in Cavite.
A day after the eruption, Jan 13, "The community brought 10 sacks of 50kgs of rice, several boxes of noodles and clothes to St. Bridget Batangas.  Volunteer students packed those goods for the evacuees. Bukid Kabataan also brought 140 packs of rice, noodles, and sardines to the Imus Social Action and gave some cash donations for Sariaya, Quezon where some families from Batangas also evacuated. Sr. Zeny Pineda coordinated the efforts to help the evacuees. Toiletries and personal items, like undergarments were bought. "She also offered to Fr. Mike, Vice-Chancellor of Imus Diocese, which the Good Shepherd Sisters can also help in stress-debriefing of evacuees. As of now, the diocese is still conducting  survey on what would be the other help that the evacuees need.
The contemplatives in Tagaytay who have temporarily transferred to Quezon City and the sisters in the different communities have been praying for the safety and protection of the evacuees.
Since January 15, sisters and staff of the Good Shepherd Provincialate in Quezon City have been praying every 1 p.m. for the safety of the people affected by the Taal Volcano eruption.
Latest update as of January 20:  Several sisters from SBC Batangas will be moved to Quezon City while the other sisters will remain in Batangas, following the earthquakes that took place January 19.
The people have been grateful for the help given them. Thanks to our friends and benefactors who continue to reach out to those most in need.
Your support will help families recover. Donate now
Philippine Province bank account:
Name of Bank:  Bank of the Philippines Islands
Account Name:  PHILIPPINE PROVINCE OF THE GOOD SHEPHERD
U.S Dollar Savings Account Number:  003084-0004-84
Swift Code:  BOPIPHMM
Address of Bank:  Loyola-Katipunan Branch
                                Katipunan Avenue corner Escaler Street,
                                Loyola Heights, 1108 Quezon City,
                                Philippines
Casa Generalizia, Rome bank account:
Account Name: Casa Generalizia Suore di NS Signora della Carita Buon Pastore
Address: Via Raffaello Sardiello 20, 00165 Roma Italia
Bank Name: Banca Popolare di Sondrio
Bank Address: Agenzia di Roma – Agenzia N. 7 Aurelio
Via Baldo degli Ubaldi 267 00167 Roma Italia
Swift Code: POSOIT22XXX
IBAN: IT 48 E 05696 03207 VARUS 0007776
Submitted by
Editor20
on 01/22/2020 - 15:14.